Docking station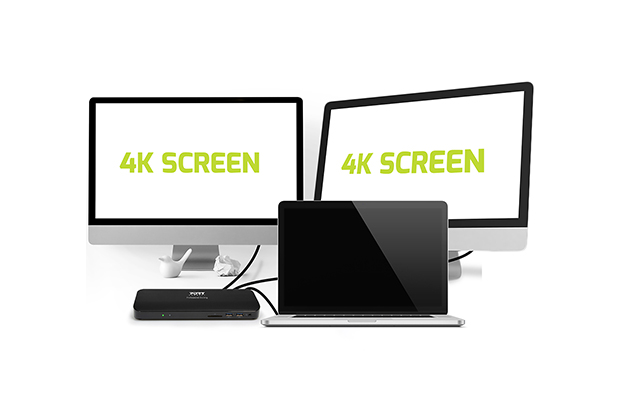 PLUG & PLAY
A docking station allows you to configure in a single connection all your connectivities and networks such as a mouse, a keyboard, screens, etc... This simplified plug-in groups all devices into a single USB output to connect to your computer or tablet.
Simplified Connection
Install and uninstall your desktop in a single connection, providing you with optimised efficiency and productivity. The docking station eliminates the need for frequent connection and disconnection of your various devices during your activities, and simplifies your mobility from your workstation to your meeting as well as your daily commute.
For all needs
Our docking stations meet different needs, including a power duplicator to directly power your device (laptop, desktop, tablet, smartphone), having a USB C output or compatible with Thunderbolt 3 technology, our docking stations best meet your needs. With dual HD monitors or a 4K video display, with USB 3.0 or USB C output, PORT docking stations adapt to current technologies and are ready for the future.
Broad Compatibility
Our docking stations allow you to connect your devices such as a laptop, tablet or smartphone with broad compatibility and a wide variety of devices, whether it's your mouse, keyboard, printers or screens, they allow to increase your efficiency and connectivity. Compatible with major operating systems such as Windows®, macOS™ and Android™, PORT docking stations are suitable for most current and future electronic devices.
Multiple Display
By allowing two monitors to be added to your workstation, our docking stations allow you to increase your productivity and facilitate your daily work such as data analysis, reading your various emails and documents simultaneously, etc.
Connect all your devices
PORT docking stations meet different specific needs by offering different port compositions including VGA, DVI, HDMI, DisplayPort®, Thunderbolt™, Ethernet, audio input/output, and USB Type-C.
In mobile or office format, our docking stations are best adapted to your connectivity needs.
A minimalistic workspace
A single cable lets you connect all your devices to your laptop or tablet via the docking station, so you can free up your office space and avoid recurring cable entanglements.
Clean and organised, your workspace will be optimised and comfortable.